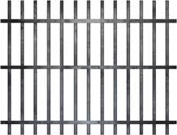 -At 11:21-pm last night, 29-year-old Meghan Taft was booked into the Knox County Jail on a warrant for contempt of court.
-61-year-old Ronald Seals was arrested yesterday by the sheriff's department for forgery and theft.  He was booked in just before 3-pm.
-20-year-old Paige Roy was arrested on two failure to appear warrants yesterday.
-The Knox County Sheriff's Department arrested 32-year-old Brandy Ray yesterday morning.  She was jailed at 10:34-am for public intoxication.