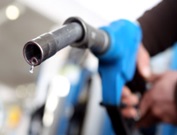 Republicans' plan to raise gas taxes to pay for roads has passed the House and is headed for the Senate:
House Republicans' bill would raise gas taxes 10 cents a gallon immediately, then index the tax to inflation and income growth for the next seven years. You'd also pay an extra 15 dollars to register your car — electric vehicles would pay more. And the state would study whether to impose more tolls.
Not included is a cigarette tax hike. The House will vote separately on that piece of the plan later this month.
Seven Republicans joined Democrats in voting against the bill. Minority Leader Scott Pelath (D-Michigan City) says he hopes to vote for the final version, but says the gas tax hike is "just too much." He and other Democrats charge the combination of taxes, tolls and fees will hurt average Hoosiers struggling to make ends meet.
Republicans say the bill would cost the average Hoosier 63 dollars a year. Speaker Brian Bosma (R-Indianapolis) argues that's less than a sixth of the average savings from property and income tax cuts the last 12 years.
Martinsville Republican Peggy Mayfield says because she drives more miles than average, the plan would cost her more — but because she itemizes her income tax, she knows exactly how much more: on average, 100 dollars a year. In contrast, she says she's had to spend 18-hundred dollars in three years from five separate car repairs, "and I'm still driving on crappy roads."
The bill goes to the Senate next month — Appropriations Chairman Luke Kenley has already warned he's skeptical of a plan to use the sales tax on gas to add to the supply of road money. That's what the cigarette tax is supposed to make up for, but Kenley says both those taxes fluctuate and could leave the state with less money than it's counting on.
(story from Network Indiana)