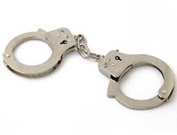 -At 9:15 last night, Vincennes police were called to investigate a domestic battery complaint at 1212 Sycamore.  Cody S. Edgin was arrested for a misdemeanor count of domestic battery
-18-year-old Tyler Bilskie was arrested by State Police last night.  He was booked into jail just before midnight for operating while intoxicated and illegal consumption of alcohol.
-Indiana State Police arrested 23-year-old Brandon Smith for refusal to submit to a chemical test.  He was jailed just after 5-pm Monday.
-Several were picked up on failure to appear warrants yesterday.  39-year-old Charles Kent, 20-year-old Jordan Griffith-West , 50-year-old Allen Hillenberg and 23-year-old Garrett Daily were all wanted on the warrants.