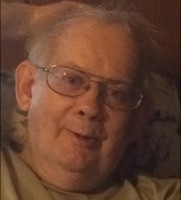 Roger Gordon Lucas, 75, of Vincennes, passed away Monday February 6, 2017 at Gentle Care Nursing Home.
He was born July 5, 1941 in Hazelton, Indiana to Elmer and Vester (Pierce) Lucas.
Roger retired as a shop foreman for the Indiana Department of Transportation and had served in the Army and National Guard. His memberships included the American Legion in Vincennes. Roger enjoyed collecting a variety of Miscellaneous items, especially NASCAR items of Jeff Gordon, and also collected music of Hank Williams Sr.
Surviving are his wife, Wilma Cummins Lucas, whom he married on July 12, 1960,  spending 56 years together; his children, Patty Arthur and her husband Dave of Oaktown, Sondra Howder and her husband Hubert of Bruceville, and Brenda Vieke and her husband Doug of Vincennes; his brothers and sisters, Mavis Jones of Vincennes, Jack Lucas of Vincennes, Cheryl Cardinal of Florida, Vickie Newkirk of Vincennes, and Kiley Foley of Evansville; his grandchildren, Heather Arthur, Lucas Howder and his wife Audrey, Heidi Bowers and her husband Michael, Cody Howder, D.J. Vieke and his wife Abby, Holly Howder and her fiancé Shane Johnson, Logan Vieke, Sara Howder, and Matthew Howder; and his great grandchildren, Mikey, Jaxtyn, and Layla Bowers, Daylen Howder, and Nick McPherson.
He was preceded in death by his parents, Elmer and Vester (Pierce) Lucas; his daughter, Rogetta Lynn Lucas; and his brothers and sisters, Elmer James Lucas, Richard Carroll Lucas, James Arthur Lucas, Billy Lucas, Garry Lucas, Freddy Lucas, Jerry Lucas, Mary Rogers, Sharon Meredith, and Nancy Delisle.