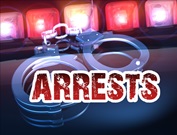 Possession arrest made early today….
Vincennes police made an early morning arrest today at 1622 Hart Street Road. Officers were called there at 5:30 to investigate a report of a suspicious person.  On the scene, they took 36-year-old David M. Redfern of Vincennes into custody for possession of paraphernalia.
-21-year-old Keenan W. Griffin was jailed today on a warrant for failure to appear.
-The Knox County Sheriff's Department arrested a Shelburn man for check deception today.  No bond was set for 40-year-old Kevin R. Lawson.
-Vincennes Police arrested 23-year-old Garrett William Dean Daily on a failure to appear warrant on Monday.
-A Vincennes woman was arrested by Knox County Deputies on Monday for residential entry.  Kristy Lynn Louise Chambers, 32, was being held without bond.
-40-year-old Megan Sue Linder of Vincennes was arrested yesterday by Vincennes police for contempt of court.
-Bryan Albert Mathies of Bicknell was jailed on a failure to appear warrant yesterday (Monday).
An investigation by the Knox County Sheriff's Department resulted in the arrest of 32-year-old Eric Donald Murray and Kelly Murray both of Wheatland.  They were booked into the Knox County Jail without bond Monday for domestic battery in the presence of a child under 16.